A great sounding jazz duo with just one musician!
No power point required, compact and totally moveable
Featuring saxophone and double bass, two of the most iconic jazz instruments
Phone Steve on 0402 117 342 or use the contact form below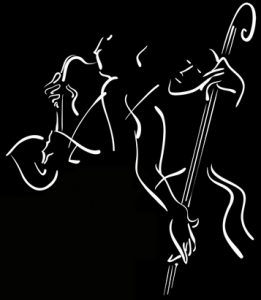 Professional multi-instrumentalist Saxy Steve plays the saxophone with pre-recorded double bass tracks to provide an authentic sounding jazz performance. All bass tracks are actual recordings of Steve playing the double bass.
From soothing to energising, the perfect mix of jazz, Latin and groove music. Steve uses a compact state of the art battery powered amplifier to play the backing tracks. A totally portable performance, moving to different locations is no issue and no power is required.
Need a larger band? Head over to The Jazz Professionals website
Sydney based jazz musician Steve Arié is a rare bird on the jazz scene. After more than 20 years as one of the most in demand jazz double bass players, he has reinvented himself as a quirky vocalist and alto saxophonist with more than a nod to the styles of Chet Baker and Paul Desmond.
Steve has performed with many Australian greats including Dale Barlow, Bernie McGann, D.I.G., Ten Part Invention, George Washingmachine, Pardon Me Boys, Martin Plaza and Gyan and has played at prestigious festivals and events including two performances at Chicago Jazz Festival, Hothouse Jazz Club Chicago, The Kennedy Centre for Performing Arts (USA), Edinburgh Fringe Festival, Ruhrfestspiele Germany, Queenstown Jazz Festival and jazz and music festivals throughout Australia.